Have you seen the move "The Pursuit of Happyness" starring Will Smith and his real son ? If not, go watch it when you get the chance. But this article is not about Will Smith or his movie. This is about Randall Munroe.
Do you know who that is ? No ?
What about xkcd.com ?
Well, its one of the best webcomics I've seen in terms of ideas and geeky jokes that I like. Calvin and Hobbes is, and will ever has been my favourite, but this xkcd webcomic appeals to my technical side.
Now to the topic of discussion, "How do you read in bed ?"
This is what Randall Blagged,
The Pursuit of Laziness
Since I was a kid, I've been looking for the perfect way to read in bed. The ideal position would involve no sustained muscle effort, so I could just let my eyes drift shut as I read, without the book falling shut or my hand slipping or anything. One way is to sit up against something and hold the book on your lap, but that's not great for falling asleep. So I usually end up reading on my side.
The problem is, you have to hold the book to see both pages, and in either case, you're using some muscles to hold it where it is.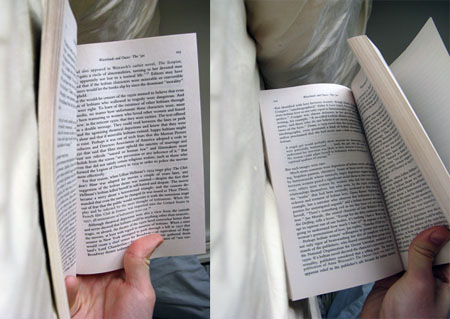 This has worked for most of my life, but it's still not that ultimate relaxation.
However, I recently got a Kindle. I was intending to use it mainly as a mobile web browser, but I've surprised myself by using it to read an awful lot. And, with apologies to all the bibliophiles out there, I find the ergonomics better than a paperback. When snacking and reading, I can lay it flat on a table without the use of a book weight to hold it opened, and when lying in bed, I don't have to keep moving it to read.
But it's not perfect. There's no way to hold it with a finger on the 'next page' buttons that doesn't require a few muscles to hold it upright: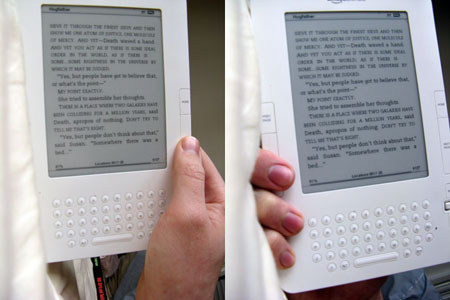 Either I work to hold my hand off the bed, or I awkwardly curl my fingers around it. Either way, it tips over if I relax my arm, even if it's leaning against a pillow, and I'm startled awake by this: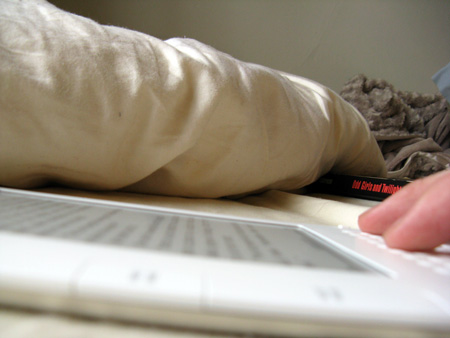 I started to wonder if I could do even better. I got out of bed one night, went to the closet, and got a steel coat hanger and some pliers. After a few minutes of twisting, I created this:
Read on to find out WHAT IT IS …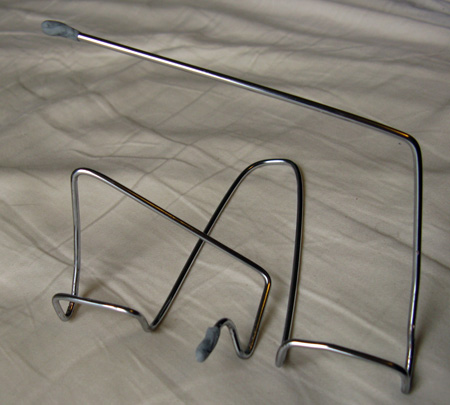 First of all, it holds the Kindle upright …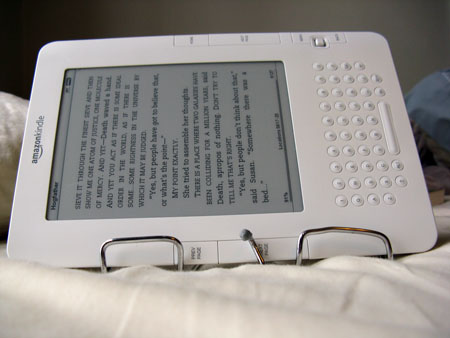 And second, it lets me lie there motionless, and turn the pages with just a tiny twitch of my thumb: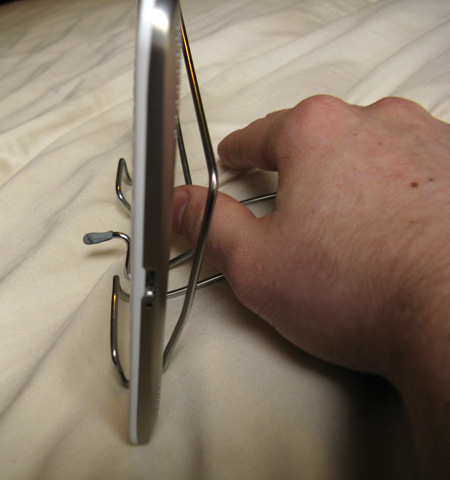 Finally, after decades of reading in bed, I have reached that stage of perfect relaxation.